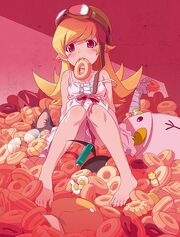 The second soundtrack album of the Bakemonogatari anime series contains additional songs featured in the anime series. All of the songs are composed by Satoru Kousaki.
Songs included in this album were later recompiled into the Bakemonogatari Complete Soundtrack.
Tracklist
Edit
Stroll (散歩, Sanpo)
Incredible Beauty (素敵滅法, Suteki Meppou)
Vagrant (放浪者, Hourousha)
Mean Remark (毒舌, Dokuzetsu)
In Planning (思案中, Shianchuu)
Bachelor (バカロリート, Bakaroriito)
Advisor (輔翼, Hoyoku)
Cat in Heat (色ボケ猫, Iroboke Neko)
The Two Sides (表裏, Hyouri)
Good-natured Person (お人よし, Ohitoyoshi)
Afterstory (後語, portmanteau of atogaki, "afterword" and monogatari, "story")
Ad blocker interference detected!
Wikia is a free-to-use site that makes money from advertising. We have a modified experience for viewers using ad blockers

Wikia is not accessible if you've made further modifications. Remove the custom ad blocker rule(s) and the page will load as expected.