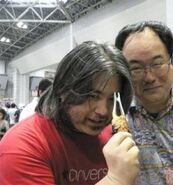 Hajime Ueda (ウエダ ハジメ, Ueda Hajime) is a Japanese manga artist and animator. He is known for his principle drawings used mostly in the closing theme sequences of the Monogatari anime adaptations. He has also occasionally animated for the series, providing key animation for Nisemonogatari and Kizumonogatari.
Affiliation with Monogatari SeriesEdit
Other Notable Works
Edit
FLCL (manga) (Art, Story)
Qko-chan (Art, Story)
Ad blocker interference detected!
Wikia is a free-to-use site that makes money from advertising. We have a modified experience for viewers using ad blockers

Wikia is not accessible if you've made further modifications. Remove the custom ad blocker rule(s) and the page will load as expected.