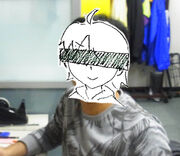 Tomoyuki Itamura (板村 智幸 Itamura Tomoyuki) is a Japanese animator, director, and storyboard artist at Shaft. He has been the director of every Monogatari TV anime adaptation ever since Nisemonogatari, taking the place of Tatsuya Oishi as he worked on Kizumonogatari for upwards of 6 years. Even though the Kizumonogatari trilogy has finally been released, it seems he will continue his role as director in upcoming adaptations.
Directorial Style
Edit
Affiliation with Monogatari Series Edit
Ad blocker interference detected!
Wikia is a free-to-use site that makes money from advertising. We have a modified experience for viewers using ad blockers

Wikia is not accessible if you've made further modifications. Remove the custom ad blocker rule(s) and the page will load as expected.