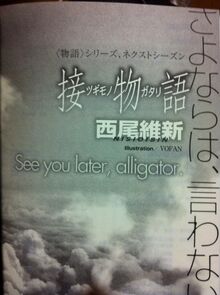 Tsugimonogatari (Connecting Story) was the supposed novel previewed at the end of Zokuowarimonogatari to take place in a season supposedly called Monogatari: Next Season. Since then, it's been largely assumed that both titles have received a name change as Orokamonogatari in Monogatari: Off Season.[1]
The preview in the back of Orokamonogatari shows Wazamonogatari and Off Season along with a list of the series but shows nothing about a Tsugimonogatari or Next Season.[2]
Whether or not these two entities just received a title change or were pushed back for a later date is currently uncertain.
References
Edit
Ad blocker interference detected!
Wikia is a free-to-use site that makes money from advertising. We have a modified experience for viewers using ad blockers

Wikia is not accessible if you've made further modifications. Remove the custom ad blocker rule(s) and the page will load as expected.