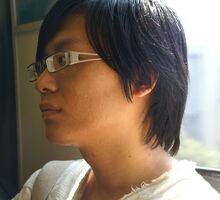 VOFAN is a Taiwanese artist mostly known for his unique, border-less art style that uses a lot of bright pastel colors and soft, natural lighting. He is the illustrator for the Monogatari light novels, having drawn every cover in the series along with illustration pages, promotional artwork, and end cards for the TV series.
Most character designs for the series originate from VOFAN, though those not done by him were created by anime series character designer Akio Watanabe.
Despite being a professional illustrator, he also holds a particular interest in photography and uploads professional photos to his Flickr account. His interest in real life photography likely explains his depiction of natural lighting in his artwork.
VOFAN is the first Taiwanese digital artist to successfully enter the anime industry in the past five years.
He is appraised as "The Magician of Light from Taiwan" to the Japanese anime community.
See Also
Edit