Yotsugi Ononoki

Character Information
Gender
Female
Hair Color
Turquoise
Eye Color
Green
Personal Status
Classification
Oddity - Tsukumogami
Occupation
Familiar
Relatives
Yozuru Kagenui (Master)
Voice Actor
Saori Hayami
Yotsugi Ononoki (斧乃木 余接, Ononoki Yotsugi) is a tsukumogami and the familiar of Yozuru Kagenui. She is the titular protagonist of one arc: Yotsugi Doll.
Appearance
Yotsugi looks like a girl with turquoise hair and eyes and a strange orange hat with eyes.Her outfit consists of a orange hat and a frilly orange dress in varying shades of color with striped blue and grey stockings and yellow boots.
Personality
Yotsugi does not seem to have a real personality.
Background
Yotsugi was once a human and was resurrected as a tsukumogami by Yozuru. Shinobu Oshino said that Yozuru "probably is using the name to bind her (Yotsugi)." and she was a supernatural creature "that took on human form".
Plot
Tsukihi Phoenix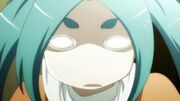 Yotsugi is first seen while Koyomi Araragi is with Mayoi Hachikuji. She and Kagenui are specialists who specialize in immortal creatures thus they try to kill Tsukihi Araragi who is immortal and is a "monster", an "Evil Phoenix". She was defeated by a powered up Shinobu. She seems to know about Koyomi's past as she calls him "Devil Boy".
Abilities
Yotsugi has a power called Unlimited Rulebook which allows her finger to shape-shift.
Trivia
Yotsugi's first name literally means "cotangent", which shares a similar theme as Yozuru's name, which means "cosine". Her surname means "axe in a tree".
Gallery